GUJARATI LOCAL CUISINE
Khevna.P.Shah, INN/Bangalore
@Shahkhevna1, @Infodeaofficial
"Tum Gujarati Log Itne Cute Hote Ho… Par Tum Log Ka Khana Itna Khatarnak Kyun Hota Hai… Dhokla, Fafda, Handva, Thepla… Aaise Lagta Hai Jaise Koi Missiles Hai…" The mainstream Indian pop culture, especially Bollywood has stereotyped and represented skewed and cliche gags that Gujarati cuisine is limited only to Dhokla, Fafda, and Thepla. Most of the Gujaratis will deny this because there is soo much more than these dishes that the people are missing out on.
Located on the west coast of India, opening up to the Arabian Sea, Gujarat is also the -jewel of the west. It is a deeply historic region, with roots traced back to the Indus Valley Civilisation and a culinary journey that has been influenced by different rulers including Mughals, Rajput, Marathas, Islamic dynasties, and Mauryans. Being a coastal state, Gujarati cuisine is vegetarian because of the raise of Jain culture.
The four pillars of Gujarati cuisine include Amdavadi, Kathiyawadi, Surti, and Kutchi cuisines, each with distinctive flavors.
Amdavadi
The most cliche fact that Gujarati food is all sweet and be blamed on the Amdavadi cuisine. The biggest city and former capital, Amdavad is 'heaven on earth' for the foodies. It is famous for its late-night street food culture consisting of delightful snacks and quick bites along with 'kulfi' and 'gola' throughout the year.
The popular breakfast item jalebi-fafda is the crowd favorite, and you will find it in every Gujarati's home on a Sunday. Jalebi is made from all-purpose flour deep-fried in a spiraling style and dipped in sugar syrup. The savory dishes include Dhokla, a light airy snack made from gram flour, which is steamed and served with coriander-mint chutney, and Khandvi that is made from gram flour batter, spread on a plate and steamed, also served with chutney. The less-popular dish is the Amdavadi pulao which is a rice-based dish mixed with vegetables but the most unique factor of this dish is that it leaves a sweet aftertaste.
Kathiyawadi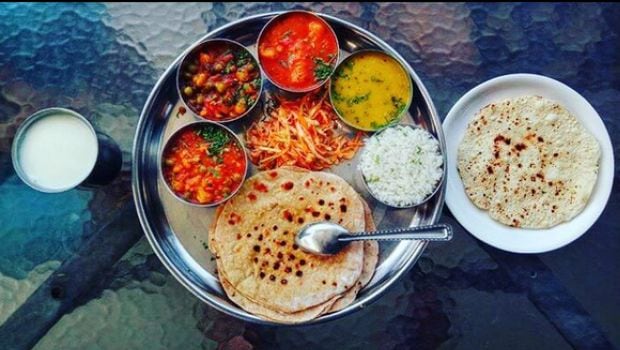 Originated from the Saurashtra region, including cities such as Bhavnagar, Rajkot, Junagadh, Porbandar, and Jamnagar comprises the Kathiyawad region. Since it shares the geographical boundaries of Rajasthan, its cuisine is different from the sweet Gujarati food, it is spicy. Kathiyawadi cuisine includes sev tamets nu sak which is a curry made from tomatoes and chili powder and topped with a snack made from gram flour(sev) and ringna no oroh made from roasted eggplant and a variety of spices. It is generally served with Bajara no rotla, a flatbread made from bajra. An amalgamation of flavors from a few cities and influences from across the border, Kathiyawadi cuisine is deliciously diverse
Surti
Originated from Surat, the most popular dish is the 'undhiyu' literally meaning upside down. This is a very prestigious and common dish in every Gujarati household. Traditionally it is made by mixing vegetables such as potatoes, pigeon peas, eggplant, purple yam, papdi, bananas with spices in an earthen pot. This dish is particularly made during the winters and also during the festivals such as Uttarayan
Another popular dish is locho, a street food made from steamed gram flour mixed with chili, ginger, and garlic and served along with mint and garlic chutneys. 'Locho' is available on every street of Surat.
Ghaari is another famous sweet dish from Surat made on the day of Chandi Padvo. The dish is made of all-purpose flour stuffed with dry fruits, mawa or thickened milk, and sugar. It is bound using gram flour and deep-fried in pure ghee. The dish is then allowed to cool and again submerged fully in ghee so that a thick layer of butter forms around it.
Surti cuisine is elaborate, clever, and gives you massive hits of flavour every time you take a bite of the dishes in its collection.
Kuchi 
Lastly, the well-known Dabeli from the Kutch region is a dish every Gujarati enjoys wholeheartedly. dabeli is a street food when the bread roll is stuffed with a filling made with potato, a paste made with tamarind, jaggery and date, and masala. This bread is pan-roasted and then topped with onion, sev, pomegranate seeds, and spicy peanuts.
As rich and colourful as Gujatris culture, its cuisine is also packed with unforgetful flavours and aromatic smell that leaves one reminiscing.