PM Modi's $400 bn exports target 'aspirational but very much attainable', says CII
Pranshi Ladha, INN/ Madhya Pradesh
@PranshiLadha, @Infodeaofficial
The Confederation of Indian Industry (CII) has said Prime Minister Narendra Modi's objective of accomplishing $400 billion in spending is 'feasible' given the post-pandemic monetary recuperation all around the world and expanding seriousness of Indian products.
The business body said in a proclamation that the methodology for trades combined with accepting all players would prompt outstanding results and "will help India take a triumphant jump forward as a $5 trillion economy sooner rather than later."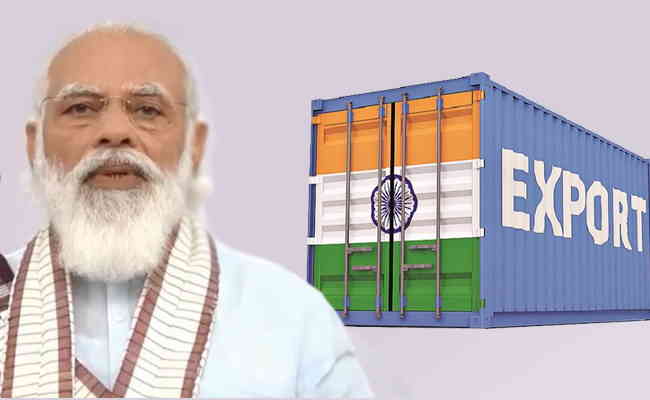 "The PM has set an optimistic, yet particularly feasible objective of $400 billion in spending for the year. At the current point when worldwide worth chains are in motion, the multifold techniques to advance fares combined with an entire-of-government approach make this a second for India to seize. The draft National Logistic Policy, support for project sends out and improving fare protection cover offer huge consolation to catalyze fares to new pinnacles," CII Director-General Chandrajit Banerjee said.
Banerjee added the head administrator's location featured the Center's responsibility towards Atma Nirbhar Bharat mission for financial development by means of fares. He likewise referenced that the business will work with the public authority on the Districts as Export Hubs drive with state and region experts for limited working of expected exporters.
PM Modi requested industry and exporters to exploit from the post-COVID openings, investigate new objections and expand the fare bushel to accomplish the objective of $400 billion in trades.
He said four elements: fabricating, annihilating vehicle and coordinations related issues, strolling side by side with exporters and growing Indian item containers for the global market are significant for expanding shipments.
By and by, trades represent 20% of India's GDP and practically 50% of India's fares are to just four significant countries. Around 60% of the nation's fares are identified with designing, petrol and synthetic items, drugs, diamonds, and gems.